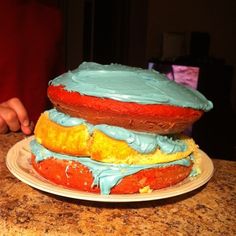 Welcome to The Great British Fake Off. How to create a Liar Cake.
Here we explore the growing volume of fakery used by companies and individuals to gain access to us and our money. Like the grotesque image of the ex Mayor of NY melting as he deals out lie after lie, this is not for the fainthearted.
Exclusive features and insight into the world of Equity Crowd Funding. Only available through an ECF.BUZZ membership.
only £3 / month
How to bake a Liar Cake -

Get at a large mixing bowl, a UK Equity Crowdfunding platform (a magimix will do) and Linkedin page.

Ingredients -

2 Kg of flannel - untraceable if you have it. Bullshit will do if you cant get flannel but can make the cake a little heavy.

A dash of cynicism and sprinkling of cockiness. If you cant find these some basic dishonesty will suffice.

1kg of dried Famous Names. Not the boiled ones, as these tend to go off. Like walnuts the same names do keep appearing again and again. Richard Branson is a great walnut.

10g of reality - if you cant find this then dont worry.

Equal measures of huge contracts, patent applications and guaranteed future funding(see recipe for fake funding).

Large packet of Team Members - available at LI. They can leave after raise is complete, so you dont have to pay them. Gives the bake credibility.

Litre of upbeat drumdididum music video, undiluted. As this is not regulated by the platforms or the FCA, all claims are good - no matter how incredible.

TM for decoration. These are easily obtained as they mean nothing in the UK. If you find yourself with a Registered TM
then this recipe probably isnt for you.

Method

The key to this bake is the multi-layering. You want to make it as hard as possible for anyone looking to find the truth. Linkedin and the FCA are a huge help here.

Stick the whole chebang in the bowl and stand back. Turn on the magimix.

You get the idea - it seems nothing is too fanciful in the world The Great British Fake Off.

Some recent examples -

Nom Foods - which the founder claims was sold as some sort of success. We have spoken to the guys who bought it! Burnt base.

OnGallery - due to have over £4m profits by now. All the Directors who used Crowdcube have now left. Huge name used in pitch who left within months and has been on another pitch. Company is a sorry mirage of what was promised with trade sale promised in 2019. Used far too much BS in this one.

Line Up - value has stayed static for 6 years. Some huge claims made in 2014 which now look a little silly. Not baked for long enough - soggy bottom.

Pet Technologies AKA Felcana. In the second most recent raise, the team included 90% of people who by the end of the year had left the company. These guys forgot to put their cake in a tin.

Daily Dose - used Crowdcube twice. Backed by the Hart Group. Both times healthy profits projected. YE Feb20 accounts show £500k loss. £800k profit was what the recipe suggested. Interesting claims made in the second round video - really George?? Revenue of £575k in YE 18 was supposed to be over £1m. Can you read George? Maybe too much video (recipe was for 1L but they used 5L) which has leaked into the bake. George is now all alone in the kitchen. Ahhh. Dont expect anything edible to appear anytime soon. Another classic one where the team sheet advertised was sorely depleted shortly afterwards.

Kokoon Technology - now raising again on Kickstarter even though they have never delivered their due from the first KS round 4 years ago. An incredible recipe that used huge amounts of cockiness and cynicism and as a result the cake failed to rise. A little too obvious this one.

Jam Vehicles - another Kickstarter alumni that failed to convince Seedrs DD after they had passed their pitch target and failed to deliver its product. Which pretty much says it all. Overcooked. Chuck in the bin and start again.












Saturday November 21, 2020